Easy Shapes
"Make it simple" doesn't mean "easy to play" :D
Welcome to the Easy Shapes itch official page!!
I made this project for the 1st Wowie Game Jam hosted by Jonas Tyroller.
It's been a funny experience trying to develop a game in 2 days according to this hard theme:

EVERYTHING INTERACTS WITH EVERYTHING


Here you are, a game made of cute shapes that interact with other super pupper cute shapes...sound easy, dosen't?
That mean you've to try it out and accept the challenge to reach the level 100!!
So Woooooooooowieeeeeeeeeeeeeeeeeee :D :D :D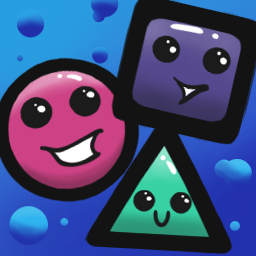 A special thanks to Francesco Gemin (Gemo) that helped me in this project; it was his first game jam <- will this be the beginning of his game developing career? O.O
THE GAME IS MADE FOR MOBILE DEVICES SO FOR A BETTER EXPERIENCE DOWNLOAD IT ON AN ANDROID SMARTPHONE (Android 4.1 minimum).
Install instructions
Android
Download the .apk file on your mobile device Enable "Unknown sources" (under Settings > Security) Tap on the file and install it Disable "Unknown sources" (under Settings > Security) Enjoy the game
--> Android 4.1 minimum <--
Windows
Download the .zip file, estract it and run the .exe file.
Also available on

Comments
Log in with itch.io to leave a comment.
Thanks Joshua for trying it out...not my best game at all but I appreciated your feedback and I agree with you!
The game should start slower and the tutorial should be different (help to understand what shape has to match with and have some buttons to go on in the tutorial...as it is now it's a simple unity animation lol).
But it is the first mobile game I made douring a game jam so...
Thanks also for the english grammar corrections too...as you can see I've to improve a lot my english skills :D
Hey thanks for dropping by the stream! And no problem. Glad you agree with the feedback. :)
The concept is nice, but the game is really hard at first! >< I played it on my Chromebook that has a touch screen, so with the web version. To get used to what interacts with what, maybe, for the 1st level only, you could slow down the speed and show what shape has to fall on which one in a top corner?
But good job for this game! It feels really nice! :D
Thanks for the feedback, I really appreciate :D
Yes I should slow down a little bit for the first level!
About the shapes matching I've done the tutorial but as some other suggested, I can add a slide explaining better the shapes matching :)
With a bit of autoclicker setup so that I could "move" my cursor a bit faster, and didn't have to think that much I managed to get to level 6. Interesting that instead of matching with the one falling, you should match with another one, messed a bit with my head first. The fact that you didn't lose immediately when you get into the game was nice too.
To bad the fullscreen mode messes the screen up and makes it much harder to play. Would most certanly look better on a phone though.

Thanks for the feedback, I confirm that on a mobile device is easy to play and better enjoyable!!
Yes in full screen mode it's unplayable, it's made for mobile devices so it's hard to make a dedicated version in a so short ammount of time (I'm talking about the jam).
Anyway thanks a lot for the feedback, I really appreciate and if you want to try it out, the game is now available on the Google Play Store:
https://play.google.com/store/apps/details?id=com.AntonioPanfili.EasyShapes
Hard game is hard, at least with a mouse. Maybe on a touch-screen android it would be fine. The things move too fast to make a selection with a mouse on screen.